| | |
| --- | --- |
| Brain Healthy Mediterranean Diet: Basil Chicken Whole Wheat Pizza | |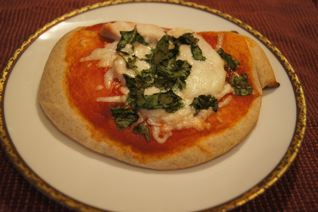 Ingredients
2 ounces of frozen bread dough, whole wheat
4 tablespoons of marinara sauce
2 ounces chicken breast, grilled and cut into strips
1 ounce of mozzarella cheese
2 teaspoons of fresh basil, chopped
Directions

Thaw 2 ounces of whole wheat bread dough or 2 pieces of whole wheat roll
dough (1 ounce rolls). Let rise according to manufacturer directions.
Preheat oven to 400 degrees.
Spray counter or larger glass cutting board with cooking spray.
Form dough into a ball and roll out to an 8-10 inch circle.
Cover with plastic wrap and let rest for 10 minutes.
Lightly coat baking sheet with cooking spray.
Place dough on baking sheet and spread marinara sauce on the dough.
Arrange chicken strips on sauce.
Sprinkle grated cheese on top of chicken. Top with basil.
Cook at 400 degrees for 10-15 minutes.
Note: Add fresh vegetables such as mushrooms, peppers or tomato if desired.


Makes 1 serving.


Keep Your Brain Healthy
Keep your mind sharp with fun games and lifestyle changes. Start by clicking the below steps.

Other Recipes: Grilled Vegetable Wrap | Grilled Eggplant Parmesan | Grilled Portabella Mushroom | Orange Jicama Salad | Granola Berry Yogurt Crunch | Tuna with Olives, Tomatoes and Capers |