The Healthy Mind Platter
By Sherrie All, Ph.D.
David Rock, author of "Your Brain at Work" and executive director of the NeuroLeadership Institute, and Daniel Siegel, M.D., clinical professor at the UCLA School of Medicine, prolific author and executive director of the Mindsight Institue, have teamed up to bring us a fantastic visual representation of a healthy way to allocate our brain resources each day. The Healthy Mind Platter (http://www.healthymindplatter.com/), based on the USDA's Choose My Plate program, offers up 7 essential daily mental activities:
Focus Time

: When we closely focus on tasks in a goal-oriented way, taking on challenges that make deep connections in the brain.


Play Time

: When we allow ourselves to be spontaneous or creative, playfully enjoying novel experiences, which helps make new connections in the brain.


Connecting Time

: When we connect with other people, ideally in person, or take time to appreciate our connection to the natural world around us, richly activating the brain's relational circuitry.


Physical Time

: When we move our bodies, aerobically if possible, which strengthens the brain in many ways.


Time In

: When we quietly reflect internally, focusing on sensations, images, feelings and thoughts, helping to better integrate the brain.


Down Time

: When we are non-focused, without any specific goal, and let our mind wander or simply relax, which helps our brain recharge.


Sleep Time

: When we give the brain the rest it needs to consolidate learning and recover from the experiences of the day.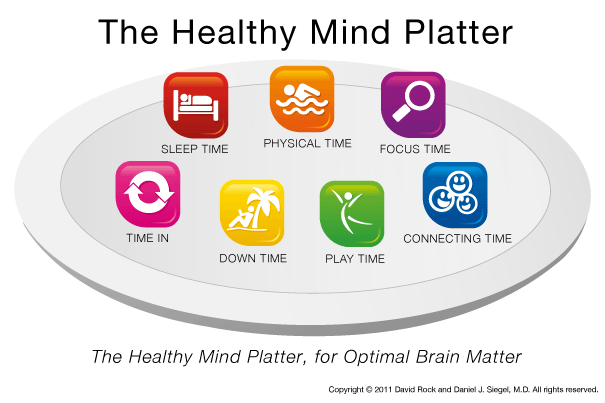 It's important to consider how we allocate our brain resources. Our brains, just like our muscles, grow stronger when they are worked and then allowed to recover. Much of the brain fitness world has focused heavily on mental stimulation, but restorative activities that allow for brain recovery, like down time and sleep time, are just as important.

How will you structure your day to include these 7 areas of brain-healthy time?
Popular Games
New games are activated each week.
Word of the Day
Number Recall
Reaction Time: Advanced
Anagram
Auditory Recall
Tangram